Stormwater Management on the Roof
Climate Change continues to create challenges for municipalities and building developers who need to handle increasing amounts of stormwater. Denser developments - especially in urban areas - often have very limited space for the typical stormwater management techniques. More municipalities are requiring developers to detain larger volumes of water on their sites and to delay the entry of that water into the storm sewer systems. Rooftops are one of the last areas of the development site where highly effective stormwater management BMPs can be employed to deal with rainfall where it lands before it has a chance to immediately run down the drain.
Hydrotech has been involved in stormwater management on rooftops for many years and provides components such as LiteTop® growing media and plant materials that are used to mitigate the effects of stormwater. As time has progressed, Hydrotech continues to stay in the forefront of rooftop stormwater management by offering a wide variety of Assemblies to handle ever increasing amounts of stormwater.
Garden Roof® Assemblies
For many years, Hydrotech has offered our typical Garden Roof® Assemblies to address a project's stormwater management needs. Varying depths of LiteTop® media combined with Gardendrain®, a water retention/drainage component, are used to address project specific stormwater management goals. Hydrotech has the ability to model the stormwater performance of the standard Garden Roof® Assembly in its HHT - Hydrotech Hydrology Tool. Click here for more information regarding Hydrotech's Hydrology Tool.
Click here for more information on Hydrotech's typical Garden Roof® Assemblies.
Garden Roof® Rock Wool Assemblies
For projects with higher water holding capacity needs, Hydrotech offers its Garden Roof® Rock Wool Assembly. This hybrid assembly combines the high water holding capacity of LiteTop® media with the exceptional water holding features of needled rock wool.  Hydrotech can provide comparison analysis for specific projects where stormwater quantities need to be met.  By varying the amount of LiteTop® media used and the number of layers of rock wool, a wide range of capabilities are created.
Click here for more information on Hydrotech's Garden Roof® Rock Wool Assembly.
PMR Blue Roof Assemblies
In urban areas where conventional stormwater BMPs are increasingly expensive, a very high efficiency stormwater method for the roof is needed.  Hydrotech has developed its series of Blue Roof assemblies to handle very large quantities of water on the rooftop.  Whether it's within a typical stone ballasted PMR Assembly, a concrete paver surfaced roof or the Garden Roof® Assembly, very large quantities of stormwater can be temporarily stored on the roof.
Click here for more information on Hydrotech's Blue Roof Assemblies.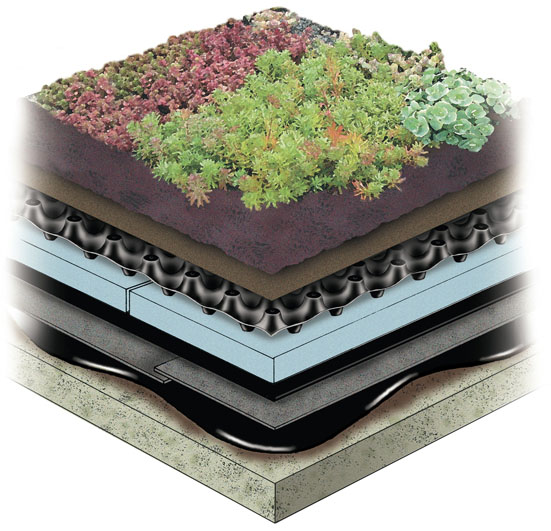 GARDEN ROOF® ASSEMBLIES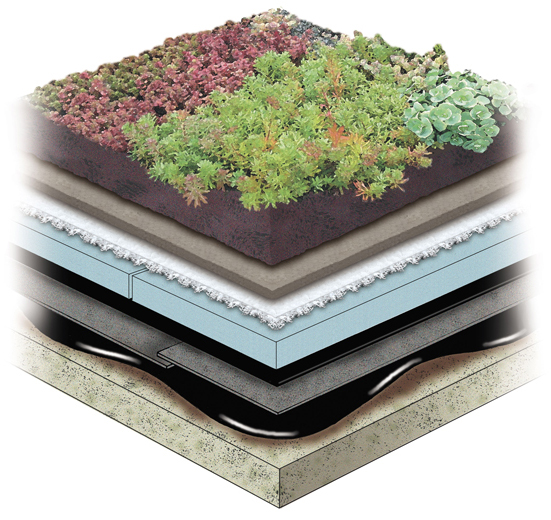 GARDEN ROOF® ROCK MINERAL WOOL ASSEMBLIES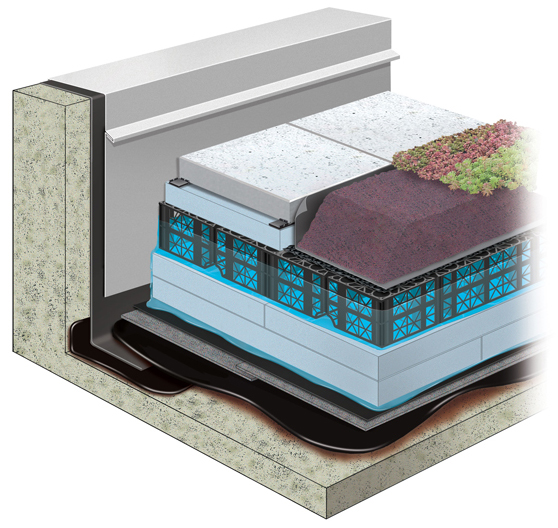 PMR BLUE ROOF ASSEMBLIES