LiteTop® Growing Media
Hydrotech provides growing media that will allow plants to thrive in rooftop applications. Hydrotech's philosophy is to create blends that are based on the physical, nutritional and biological requirements of the different types of plants selected by the designer. These blends are adjusted for different locations and climatic conditions. The media is tested to ensure it meets the particular needs of the plant types and Hydrotech specifications. Specialty blends are available for Urban Agriculture use in growing edible crops as well as a blend that is an ultra-light weight for special structural conditions. These components are mixed in proprietary, prescribed ratios to create the Hydrotech series of LiteTop® growing media blends. Each blend may vary slightly across Canada due to the availability of component materials in each market.
LiteTop® Growing Media Blends
Hydrotech LiteTop® growing media is based on performance specifications for these types of Garden Roofs®:
Extensive Blend
Semi-Intensive Blend
Intensive Blend
Urban Agriculture Blend

The specifications for each blend outlines optimal ranges for blend texture, weight, water and air holding capabilities, hydraulic conductivity (drainage), nutrient and other physical and chemical characteristics and biological activity. Tests are conducted to determine whether the blends provided fall within the ranges for each of these criteria and to optimize the performance of the particular climate where the blend will be used. Contact Hydrotech for recommendations on which LiteTop® media blend is best for your project.
Hydrotech Blender Program
LiteTop® is blended to order by a network of Hydrotech approved regional blenders. Each of these blenders has been selected in their markets to provide the specific blend of materials needed. Hydrotech works with each blender to ensure that the LiteTop® media meet Hydrotech's quality assurance requirements and performance specifications. This testing incorporates protocols included in various ASTM standards and German FLL guidelines.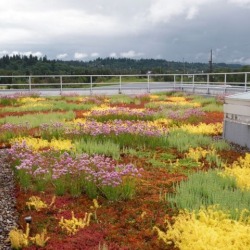 LiteTop® Extensive Blend
This well-draining blend is designed to support the drought tolerant plants that will thrive in normal conditions where a roof may or may not receive supplemental water during the growing season. This blend has a high water holding capacity making it ideal for stormwater management BMP projects.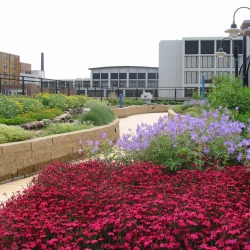 LiteTop® Lawn Blend
This growing media is specifically blended for the particular needs of lawn grasses. It has a lower organic matter content like an extensive blend but has a finer texture. This blend has an excellent structure to avoid compaction problems from excessive foot traffic. This blend is intended to be irrigated on a regular basis to support lawn grasses.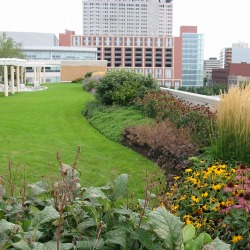 LiteTop® Intensive Blend
This blend is similar to a loamy garden soil in its water holding characteristics. It is ideal for plants that like well-drained soils and can support a wide variety of plants including trees, shrubs, perennials and grasses, ground covers and other plants that are commonly found in at-grade landscapes.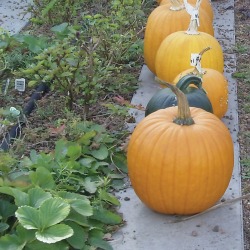 LiteTop® Urban Agriculture Blend
Growing vegetables, herbs and other edible plants on vegetated roofs is becoming increasingly popular and Hydrotech offers a blend specifically for that purpose. Its organic matter content is designed to support the particular needs of vegetable crops. Its structure promotes good root growth to support stems common in edible crops.
Custom Blends
Though Hydrotech's standard LiteTop blends are appropriate for most project applications, we understand that some projects require specific performance or nutrient criteria from their engineered media to achieve their optimal potential.  Contact Hydrotech's Garden Roof Department staff to discuss custom LiteTop blends, today!